Standing Out From the Online Crowd – 3 Reasons to Use Social Media
In a time before social media, creating an online business required large investments of time and money. You had to be savvy with HTML and web page building, or pay someone to do it for you. Then the boom of SEO hit the internet marketing scene, and everyone scrambled to be ranked #1 for their chosen keywords. The trend has now shifted towards using social media to reach your audience, and it's easier than ever, requiring just a little bit of time to get a business page up and running on any of the social trends (Facebook, Twitter, Pinterest, etc).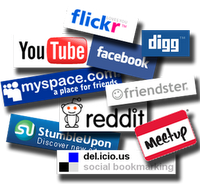 Selling your product to a target audience used to be 1: create a webpage, 2: pay for advertisements, 3: hope you generated enough traffic to make an income. Of course, hosting a website and paying for ads made it difficult for entrepreneurs to hit the ground running, and social media has nullified the expensive aspect of creating an online business. It's not rocket science and you don't need to stay up to date with the latest HTML / CSS versions, or pay anyone to do the dirty work for you.
The work isn't even dirty anymore. With the ease of WordPress, people these days are simply getting a page running, connecting with their audience and watching the income nearly generate itself.
A Little Birdie Told Me
Social media sites account for nearly 74% of internet traffic, which means more people are using Facebook or Twitter than ever. It costs absolutely nothing to broadcast your message to an increasingly larger audience every day, whereas previously you needed to shell out for banner space, or hope you hit the backlink jackpot. There's absolutely no reason to not take advantage of the marketing benefits that social media offers, especially if you're an entrepreneur without a large marketing budget. Growing your online business is as simple as registering your page and spending some time each day connecting with your target audience in a way that's fun, simple and free.
Easy as 1-2-3
It's Easy – You don't need to spend any time creating a website when you can simply create an account on any of the social media sites and begin uploading pictures, videos and other content relevant to your business. Sites like WordPress and Blogger make it ultra-simple to build a page from an existing template that looks every bit as professional as a traditional business site. Many of these services make it easy to navigate through the steps necessary to update regularly while keeping track of comments and visitor traffic.
It's Convenient– Millions of tweets happen on Twitter each day, and Facebook recently reached over a billion users in August of 2012. With these two powerhouses accounting for such a broad market of potential customers, all under one virtual roof, you owe it to yourself to spend at least an hour each day broadcasting updates and responding to comments from customers. One thing's for sure, it definitely beats going door to door to share information about your product.
It's free – Neither Facebook, nor Twitter or Youtube, Pinterest or any of the other social media sites have begun charging for their services, which means registering an account for your business is as easy as registering a personal account for yourself. Some restrictions do apply, such as the need to build a specific business page that's separate from your personal Facebook page, or the inability to promote giveaways and contests over Pinterest, but this just means greater marketability for you as a business owner.  Rather than promote a giveaway over Pinterest, post a great picture that's sure to generate some buzz and link it back to your blog or your Facebook business page, each time your work is pinned by another original credit is given to you, and your chances for fresh new visitors to your site increase as well.
If You're Going to Share Your Opinion Anyway, Why Not Get Paid Too?
I can't stress enough how you should be using social media to get your product out there. Business is all about reaching a target audience, and social media is handing you an unlimited supply of foot traffic. It's up to you to jump into the middle of that traffic and direct it towards your niche. You don't have to know how to code complicated internet languages or any special schooling.  Many of the pros follow a theme known as Thesis, you can mimic this same look with a DIY Thesis theme so you can get started with ease, building a page that is every bit as unique as you while following a format that establishes your page as decidedly professional.

About the Author:
Freelance writer Rachel Cook recently started a new blog all about her daily adventures as a novice coffee farmer in Kona Hawai'i.  Her passion for adventure is rivaled only by her passion for writing. As she explores the beautiful Kona Coast and discovers wild edible plants, she keeps a running recipe list of fruit smoothies and salads. When she's not busy giving tours of the farm, Rachel can be found helping her friends navigate the wealth of information available at www.shopwpthemes.com in case anyone wants to start sharing adventures of their own.